NLNA Neighborhood Art Mural
"Neighbor By Neighbor Let's Bring Peace & Unity to the World"
On June 10th, 2007 a group of concerned neighbors from NLNA worked with artist Lynda Tuttle & started a Traveling Mural Art Camp with thedesire to help children build connections within the neighborhood.  Starting with 2 children & 2 high school mentors they met for 2 hours a day.  In 2 weeks, having grown to 18 children ages 5 – 11, 6 teen mentors, & 1 college student mentor, the Lynda & the children proudly unveiled this incredible mural displaying their message of hope that neighbor by neighbor we can make a difference. Over fifty neighbors attended the unveiling ceremony along with a special visit by Mayor Janet Weir Creighton.
Traveling weekly to new locations throughout Canton, this mural has been seen in such locations as on the front Lawn of Calvary Presbyterian Church, in Downtown Canton on Market in front of Stark Community Foundation, at Plant et Art on Fulton, on Court for Canton's First Fridays, off of Interstate 77's Fulton Rd Exit during Hall of Fame Week, and on several NLNA resident lawns. This mural continues to travel and can be displayed at your private or corporate location.

Explanation of the Art Mural
Bringing peace & unity to the world begins neighbor-by-neighbor right here in Canton, Ohio (star on the world).  North Lehmanis a neighborhood filled with history (mature unity trees) & continually seeking the planting of new growth (seedling tree). We want to light up our neighborhoods (lit windows) with the hope (rainbow) that each of us can make a difference right where we live.  Through creativity (spinning colorful wheel), outstretched reaching hands (hand print leaves), games (sports items), & communicating with one another (silhouettes facing one another) – we can learn from our unique differences (different color silhouettes) & make our neighborhoods a better place to live. This message starts here in Canton – but we want it to travel (bicycle) to Ohio, United States & the World (flags & world). Special thanks to our generous sponsors (who keep our creative wheels spinning), to Calvary Presbyterian Church (the heart of where NLNA holds many activities), and to all the volunteers (signatures on the basketball) – You have made a difference!
Sponsored by: NLNA Members, Stark Community Foundation, Neighborhood Partnership Grant Program, Plant Et Art, The City of Canton, Chase Bank, The Repository, Calvary Presbyterian Church & Private Donors. Additional Corporate & Private Support for Lynda Tuttle's Neighborhood Art Programs can be sent to Lynda Tuttle's Art Center – 209 -6th St NW, Canton, OH 44702.  For more details call 330-452-8211 or email: lt@LyndaTuttle.com
__________________________________________________________
Downtown Canton Sparks Children's Imaginations
By Lynda Tuttle
It's been many years in the "remaking", but through hard work, dedication and the creative approach of many area businesses, the Arts, the Special Improvement District, and the Chamber of Commerce, downtown Canton has successfully transformed into a thriving cultural hot spot for adults while captivating the wonder of our children.
As an art education director, I have the joy of working with children daily.  It's amazing to see their eyes as we take walking tours of our city. There is so much to enrich their lives. From murals, including the children's mural which travels to new locations weekly, to painted trash cans, to spectacular animal sculptures, just walking through the downtown streets brings their imaginations to life!
But don't stop, there's so much more …buildings with incredible architecture, the mesmerizing Palace Theatre, and the magnificent angles on the top of our refurbished court house. There are shops, museums, galleries, and our library –packed with great children's programs.
Then there are the restaurants that will surely light up the eyes and fill the stomachs of our munchkins. They will love trying pancakes at Downtown Samantha's, an over sized meatball at Arcadia Grill; a hot dog with all the works, or maybe just plain, at Arcade Coney, or maybe a slice of hot, cheesy pizza at Napoli's.
If you haven't been downtown with your children, stop down at the Art Education Center on First Fridays for an art workshop and face painting followed by the family critter parade! Watch for events like Zing in the City, Farmers' Market – complete with children's art– on the fourth Saturday each month, Light Up Downtown, and Ice O' Rama, where you can watch the creation of unbelievable glistening ice sculptures, … they are all fantastic family outings and great ways to experience the city.
From Downtown Developments, A publication of Canton Development Partnership
September/October 2008, Vol. 8 Issue 5
____________________________________________________________
Boosting Global Interest In Education By Merging Engineering, Arts
7/31/2007
TimkeNet
Lynda Tuttle, artist at Second April Galerie in Canton, Ohio, works with Hartford Middle School students to create a steel mobile using Timken bearings. Timken recently organized a career day event at the Canton school.
Art without engineering is just dreaming. Engineering without art is just calculating." -author unknown
Art. Engineering. Seemingly different disciplines but powerful when combined. This is a message Timken shares with students in the global communities where it does business. For example, Timken organized an educational event in China to kick off its Art of Engineering program; http://content.inside.tkr/timkenet/pages/news/index.asp?newsid=1459> . In the U.S., Timken built upon that and helped organize a career day for seventh and eighth graders at Hartford Middle School in Canton, Ohio.
"We wanted students to come away with a better understanding of what engineering is and how it's used in our world," said Dave Harris, Timken senior application engineer in Canton. "It was a rare opportunity for these students to ask leading professionals about what they do and why they do it and get straight answers."
Added Timken engineer Ben Braisted, "Engineering and arts go hand-in-hand. While art is creative, engineering shows how to make a concept or idea reality."
As part of the career day, Timken paired local artists with company engineers. Using visual aids, props and handouts, each pair interacted with students and helped them explore the similarities between art and engineering careers.
"We showed students that there's a wide diversity of skills used in careers in both art and engineering," said Betsy Engels, community relations manager. "And those students were interested. In fact, one teacher told me how impressed she was with the outpouring of enthusiasm and dedication Timken showed the students. She said that these students need strong role models."
Timken strives to hire some of the most creative engineers in the world. And these engineers solve some of the industries' toughest challenges with beautiful results. That's why artist Lynda Tuttle from Second April Galerie in Canton, Ohio, notes that art and engineering is everywhere.
"All you need to do is look for it," she said. "Our main message was for students to apply the creativity of an artist, the ingenuity of an engineer and the educational resources that are before them – along with hard work – to design their futures."
____________________________________________________________
'Spectacular Story Quilts Illustrate Impact of Civil Rights Movement'
By Tom Wachunas
Observer-Reporter
May 2008
In July 2007, artist and educator Lynda Tuttle, with the aid of a $9,500 grant from Arts in Stark**, was just beginning to gather participants for her massive community outreach called Canton Painted Story Quilt Project. Fourteen people had signed up for workshops to write testimonials and paint images that document life in Canton before, during, and after the civil rights movement. In the months that followed until the project's unveiling on April 11 at the Second April Education Center in downtown Canton, more than 300 individuals, from Stark and Summit Counties and ranging in age from 9 to 82, had in some way contributed to the painting and sewing of more than 130 canvas panels and their accompanying written stories.
The panels have been quilted together with vividly patterned fabric borders to make several large wall hangings, each composed of 15 images. The results, on display until June 7, are visually spectacular and emotionally breathtaking.
"My vision was to bring people together of all ages, of all races and cultural backgrounds, to learn from each other and to open up dialogue," Tuttle said. "Seeing how that is coming to pass is more rewarding than I can tell you."
The quilts are an ongoing, project, open to public participation, and participants are not required to be skilled artists. In fact, the majority of the work now on view is by individuals who aren't painters as such. Still, with Tuttle's steady, hands-on encouragement, these untrained individuals have created remarkably engaging pictures.
The project is growing in other ways, too, including dialogues between middle school students in Canton and Louisville, to address cultural biases and stereotypes. Additionally, similar cross-community monthly exchanges are being planned for the new school year, to be held at the Second April Education Center.
Tuttle noted that the art generated by this project embraces the impact of the civil rights movement beyond just its beginnings in American racial conflicts. "When I started this I knew it was more than just a black-white issue, although that is still a great public issue we need to deal with," she said. Many of the images address social justice and discrimination in a universal sense, including issues of religion, women's rights, child abuse, and the treatment of people with physical or mental disabilities.
For example, 12 year-old Claudia Dillard, a middle school student from Green who takes art lessons from Tuttle, was inspired to make a painting with"Words Hurt" emblazoned across the canvas amid a flurry of red, slash-like strokes. Claudia's mother, Jodi, also made a panel for the quilt. She explained that her daughter was "overwhelmed and really bothered when a boy in her school, who has a mental disability, was getting picked on."
Jacqueline Barnes Holmes, a Canton native, assisted in the actual quilting and also made a panel, "Dancing in the Street," based on her experience of growing up in an era when Blacks were banned from purchasing houses in many Canton areas. She said her experience of working on the quilt was a joyful and rewarding one, calling it "the pivot and pull around which a lot of people from very diverse backgrounds got together in fellowship and shared their stories." While fully aware of the negative effects of segregation, she chose to portray the strong sense of community she felt from the neighborhood street dances in her youth, sponsored by The Canton Urban League.
Just below that panel on one of the quilts is another, by Claudette Hankins, with a similarly positive message. Called "Free to Let Go," it's a breezy rendering of baggage falling away from a plane soaring across a blue sky. Hankins was born in Jamaica and lived in Trinidad and Tobago before coming to the U.S. when she was 11, and had not seen racial segregation up to that point. In her written story for the panel she said that throughout her extensive travels, while encountering racial injustice, her upbringing enabled her to not let it harden her soul. "Through my life I have found it important to not take on or hold on to baggage – it will only drag us down. We have to be 'Free to Let Go' and move forward in life."
Tuttle has many stories to tell about the communal interactions and the therapeutic spirit of collaboration she witnessed as her project grew. One of those stories is particularly apropos in describing the essence of her purpose. On a very late night, 25 people of diverse ages, races, and backgrounds were bustling about the gallery, preparing it for the opening. Some were dancing to keep their energy up. Others, generations apart, engaged in discussions of literature, or opera. Eli Galford, a young man who had painted a panel for the quilt called "Unity," had been quietly taking in the animated proceedings around him.
Tuttle recalled, "All of a sudden he looks at me andsays'Do you know what's happening here? This is your story quilt in living action.' That was incredible to me. I had tears in my eyes. He was so right."
The quilts are available for travel to schools, churches, civic groups, and corporations. For arrangements, or to participate in the project, call (330) 452-8211, or email Lynda Tuttle at tuttutts@juno.com
 
**see correction below
____________________________________________________________
April 11, 2008
Section: Canton Repository Entertainment
'Every picture tells a story: Quilt Unveiling Tonight'
Growing up in Canton before, during and after the civil-rights movement is the theme of a story quilt that will be unveiled during a reception from 4:30 to 9:30 tonight at the 2nd April Education Center at 209 Sixth St. NW. Artist Lynda Tuttle worked with about 300 people from throughout the county, most of them non-artists, ages 13 to 82, to create panels for the vast, gallery-filling quilt. "My first goal was to bring people together from all races and cultures to tell their stories and open up dialogue. I have incredible stories about every angle of civil rights," Tuttle says. "The second is to travel the quilt to schools. This is an ongoing project that will grow." The quilt was funded through a grant from Arts in Stark**.The project will remain on view through June 7; to schedule a viewing for individuals or organizations and groups, call Tuttle at (330) 452-8211.
 **see correction below
____________________________________________________________
April 25, 2008
Section: Lifestyle
'Individual experiences create 'Painted Quilt Project'
DENISE SAUTTERS
REPOSITORY LIVING SECTION WRITER
The Canton Painted Quilt Project, funded through a grant from Arts in Stark**, is about us as individuals and as part of a community. The project is about growing up here before, during and after the civil rights movement. It is about the individual struggles and triumphs in the Stark County community in race, religion and education.
Lynda Tuttle is bringing the community together.
"The panels are a testament to the ability of a group of diverse people to come together and work toward a common goal," said Tuttle, an artist who organized the making of the quilts, each block of which tells a story from the artist's life.
"Many of the people who came here to work did not have an art background, but they came and once they got started, they were able to transfer their memories into art," Tuttle said.
STORIES
"My most vivid memory of the civil rights movement as a child was of Arthur Beeler," said Nadine McIlwain-Massey, a member of the Still I Rise book club, a project participant. "Mr. Beeler was the Urban League's youth director. He taught us that we had the same rights as anyone else who paid taxes."
She told the story of being one of about 14 young Urban Leaguers who went to the Stark County Fairgrounds roller rink to skate. When their bus arrived, they were told by the owners of the rink that they were not welcome at the skating rink. The next day, she said, Beeler sued the owners.
"He told us that this (fairgrounds) was taxpayer land and that black people pay taxes. He said black kids have as much right as anyone else to skate there," she said. "We all followed him to the Stark County Court House. We didn't have to wait long to hear the results of the case. It seems it was less than a month before Mr. Beeler said we won the case."
Those same children boarded the bus not soon after and this time, when they arrived, the youngsters were allowed in.
"We skated with a lot of whistle-blowing, literally," she said. "The skating rink closed soon after that and so did the Pathfinder, the skating rink for black children. Too much integration. For me, it (the whole experience) was monumental."
CLIMBED FROM DARKNESS
Bill Wilson tells a story of perseverance.
"From the earliest memories I can remember, I had trouble in school. It was difficult for me to learn to read and write because I couldn't hear and I was dyslexic. I was 2 when my parents found out I was partially deaf. I had missed all the phonics sounds essential to learning speech, language and the ability to communicate my thoughts to paper."
Although tormented throughout his early school years, Wilson said his quilt block tells the story of how he climbed from the darkness into the light.
"My family moved to Sandyville when I was entering the eighth grade," he said, saying that it was his freshman year that made a difference for him. "I worked with a tutor daily. She was patient with me, allowed me to make mistakes and helped me learn from them. My football coach was also an important player in my life. He taught me how to be a responsible adult. He pushed me and encouraged my work ethic. By my senior year, these two influences molded and shaped me to the man I am today."
To hear Wilson speak, you would not know he had a speech impediment. He uses his learning disability and dyslexia, now under control, as a strength rather than a weakness.
"There are some people who just give up," he said. "They see it as too daunting and too challenging, but I wouldn't let myself go. My mentors, hard work and my perseverance allowed me to master my mind and my education."
McIlwain-Massey and Wilson became friends through the making of the quilt. "I'm so proud of him and what he has been able to do," said McIlwain-Massey, an educator now serving on the Canton City School board. "I like what Bill said that it was a teacher who turned him around. He didn't fall completely through the cracks."
Another quilt designer was Jacqueline Barnes Holmes who remembers dancing in the street when she was young.
"In the 50s, restricted housing codes banned black folks from purchasing houses anywhere but in the southeast and northeast sections of the city. It didn't matter if we could afford to live someplace else," she said. "For me, one of the most treasured hallmarks of that time was the sense of community among the youth. We had street dances sponsored by the Canton Urban League. As teenagers, our families had few possessions, but on a soft summer evening, we had each other, the magic of the night, the rhythm of the music, and the ecstasy of the dance."
A QUILTER'S PERSPECTIVE
"It is amazing," said Jeanette Layton, one of several quilters who framed each piece of canvas after the art work was completed. "It didn't look like anything when we were doing it, but when it was done, I couldn't believe it."
Layton's husband died a year ago and she was looking for something to do when a neighbor, Maxine King, approached her about the quilt project.
"She asked me if I would like to help with sewing these strips," Layton said. "I didn't know what she was talking about, but I went with her. We started sewing the strips together then cut them into five inch pieces. When we saw the finished project, we were amazed."
Tuttle cut the strips then other quilters pieced them together, noted Layton, one of several quilters for the project who started quilting in January.
The quilt was unveiled April 11. It will be on display at the 2nd April Arts Education Center at 209 Sixth St. NW through June 7.
"When I started, I had no idea how it was ever going to work out, but when it was done, wow," said Layton. "I was very impressed with how everyone worked together. I enjoyed not only the sewing, but hearing the stories. I would love to go in someday and just read all of them."
THE WHOLE PICTURE
Tuttle envisioned the quilt design years ago while studying Faith Ringgold, a black artist and author who lived through the civil rights movement.
"It was a two-fold vision," she said. "The first part is that I believe that as adults, all of us have been affected one way or another by the civil rights movement. I wanted to bring designs that say what we have learned, how we have grown and what we have to share with each other not only through art, but to open up a dialogue with one another."
The panels also will travel to schools to help students studying civil rights and history visualize what went on during the movement and to get them engaged in what they can actively do to make a difference. Tuttle said she believes the project will help the community understand, learn, and remember the strides in civil rights experienced here.
"This is a piece that will continue to grow," Tuttle said. "We will have dialogue sessions for people to come in to hear the stories, read, and participate in discussions on how we can bridge more gaps."
**see correction below
___________________________________________________________
The Alliance Review
Laurie Huffman
March 14, 2008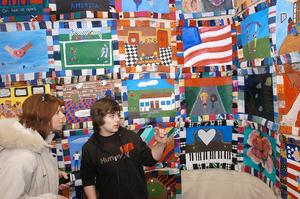 Photo By Kevin Graff/The ReviewFran Ginther, left, and her son, Zane Parsons, look at his panel within the Canton's Painted Story Quilt Project Wednesday at the Louisville Middle School, Arts and Literacy Festival.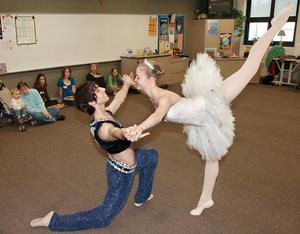 Photo By Kevin Graff/The ReviewEthan Lee, a Hoover High School freshman, and Elise Grasse, a freshman from Louisville, both of the Canton Ballet, perform a demonstration Wednesday at the Louisville Middle School Arts and Literacy Festival.
Dance, orchestra and original artwork came together to bring new life and throngs of spectators to Louisville Middle School Wednesday evening during its annual Arts and Literacy Festival.
Previously called Project Night, the event, funded by ArtsinStark, was created by middle school art teacher Kathy Guidone, who has made it into a multicultural evening not to be missed in just three short years.
Included during the event was an extensive display of student and community artwork, a performance by the Canton Symphony Orchestra and Canton Ballet, along with make-it-and-take-it workshops held in partnership with Malone College and the Canton Ballet.
This year, Guidone also partnered with artist and educator Lynda Tuttle, who created Canton's Painted Story Quilt Project. The painted "quilt" panels made by the students in Guidone's classes expressed their thoughts on how the civil rights movement has affected them.
Tuttle brought several people of different ethnic backgrounds to the school to talk to the students about their experiences and about the impact of the civil rights movement on minorities in this country. The students had a chance to ask questions, and some of them were stirring. One student asked why black people are offended by the "n" word.
After several discussion sessions such as this, and after viewing some of the quilts made by adults, the students created their own panels, many of which are profound.
"We are one" was printed on one of the panels along with a painting depicting the hands of people of several different colors holding the earth up together. Another panel stated "America is free. Some people just don't see." One more said, "Segregation divides. Unity opens new doors."
Eighth-grade Louisville students wrote the quilt panel stories and seventh-graders painted the quilt panels to illustrate the stories.
The quilt project, with the Louisville Middle School students' work included, will be on display at 2nd April Gallery, 209 6th St. N.W., Canton, beginning April 11. It will stay there for six weeks and will then go on tour to colleges, civic groups and schools across the country. Open studio sessions, which are open to the public, are held at the art gallery. No art experience is necessary.
Everyone's quilt panels will be included in the tour, according to Tuttle, who said the adults have just as much to learn from the panels created by the youth as the young people do from the adults.
"I wanted to include every generation," Tuttle said. "Kids don't worry about being politically correct. They say it like it is and their panels are very powerful. The adults' panels are also powerful, in a different way."
That was not the only compassionate component of the event. American Legion designated "Blue Star Mothers," who are mothers of soldiers killed in action, were also on hand helping people send letters to soldiers overseas. Students created an American flag made of small photos of themselves and one comprised of small origami birds to send to the soldiers along with the many letters written by youth and community members. Several stained glass art objects were also created by the students to be sent to those serving in the military.
On the music side of the evening, members of the Canton Symphony Orchestra performed "The Suite," which is a piece of music that tells a story, Guidone indicated. A rock band made up of Louisville Middle School students also performed at the "cafe," where the culinary arts projects were displayed and savored.
As far as the student involvement in the Arts and Literacy Festival, Guidone said she divided the art projects into several areas: Landscape design (outdoor decorations); interior design (art, posters and signs lining the halls); industrial design and construction (indoor displays in the main art room); culinary arts (art made of edible items); and graphic design (press releases and posters).
Each art class had all committees within it and students were divided into committees that would each take a different section of the building.
Art on display included many mediums such as duct tape over crumpled paper animals and objects, abstract pieces and portraits created in pencil, oils, ink and construction paper, to name a few.
Outside the building the students also constructed a large wishing well with a fountain inside and potted flowers surrounding it. In addition, beautiful carved containers filled with floating candles lined the front sidewalk.
The Arts and Literacy Festival was funded by ArtsinStark, the County Arts Council, which will kick off its annual fundraiser Monday.
___________________________________________________________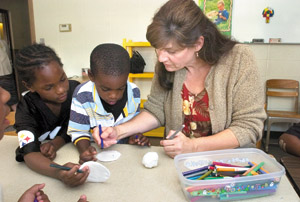 'Canton Calvary Mission'
By Pat Kelley | Photos By Julie Botos
Share the Wealth
As executive director of the Canton Calvary Mission, Marie Senften-Deitz knows there are plenty of people in the Gibbs School neighborhood to help and she can't stop finding ways to help them.
There's a food pantry and hot lunch every Wednesday and a hot dinner every Saturday. One Saturday each month, there's a food pantry, and on the second and fourth Wednesday mornings, there are free haircuts for men and women.
The food pantries serve about 600 families each month, Senften-Deitz said.
The newest program is "Backpack for Kids," which started in September. Each Friday, children are given a pack that contains two breakfasts and two lunches on the weekend.
Ninety percent of the children attending Gibbs School across the street are on federally reduced-fee or free lunches, Senften-Deitz said.
"When kids aren't eating at school, there's nothing at home for them," she said. With two breakfasts and lunches and Saturday dinner available, only one meal is left to the home each weekend.
The mission has a special emphasis on children. For kids in grades one through six, there is a free after-school program that's both educational and social (with a snack), along with one-on-one tutoring and an arts program.
A summer program brings children to the mission for academics, Bible study, crafts and other activities, along with field trips. The children also are given a hot lunch.
The mission exists entirely on donations and can accept a wide variety of goods in addition to money, Senften-Deitz said.
A big need is for protein items such as peanut butter, macaroni and cheese, tuna, and soup with meat, she said. The mission also accepts bread, vegetables and meat.
Personal care items such as deodorant, shampoo, lotion, shaving cream, razors, toothpaste and toothbrushes, along with diapers, feminine products, toilet tissue and other paper products that aren't covered by food stamps, along with laundry detergent in either small boxes or very large boxes that can be divided into smaller portions.
Clothing also is accepted because the mission provides coats, boots and even underwear for children during the year.
__________________________________________________
**Artist Correction to Above Articles: Lynda Tuttle did not receive grant funding for the Story Quilt Project. 
__________________________________________________
for more information contact:
209 -6th St NW, Canton, OH 44702
330-452-8211
email: lt@LyndaTuttle.com